Looking for the best SUI wallet? Sui is a decentralized proof-of-stake blockchain with storage and throughput that are scalable horizontally. It is intended to be a high-performance, low-latency blockchain that can handle a variety of applications, such as decentralized software, gaming, and banking.
Sui employs a novel consensus mechanism called Lutris that blends a consensus-based DAG protocol with consensus-less methods to provide the best of both worlds: continuous throughput of thousands of transactions per second with sub-second latencies.
Sui also has a robust object system that enables programmers to create sophisticated, composable smart contracts. Sui is therefore perfect for creating high-performance, scalable games, financial apps, and other decentralized applications. Although Sui is still in development, it has the potential to be a significant participant in the blockchain industry. It has already attracted a number of significant partners, including Red Bull Racing, and is supported by a group of skilled engineers and business owners.
SUI is the name of Sui's native asset. To differentiate the token from the Sui platform, the token utilizes the capitalized version of SUI. Below is the list of hardware as well as software wallets are available to store SUI token:
Best SUI Wallets:
Read Comprehensive list: 20+Best Cryptocurrency Hardware Wallets [Mega List 2023]
KeyStone Wallet
Because Keystone Wallet does not have internet access, it is incredibly challenging for hackers to gain access to your money. Keystone Wallet can only be used in conjunction with QR codes, which are created by the device and scanned by the user's phone.Your private keys are kept on a tamper-proof hardware component called the SE chip. The highest degree of security certification for a hardware wallet, EAL5+, has been granted to the SE chip.
The use of two-factor authentication is supported by Keystone Wallet. A self-destruct function allows Keystone Wallet to be remotely erased if it is ever physically hacked. Small and lightweight, the Keystone Wallet hardware wallet is simple to take anywhere. For enhanced security, the device incorporates a fingerprint sensor and a touchscreen display.  Keystone has been made available to many blockchain ecosystems in addition to the SUI eco.
Discount: Apply coupon code "DISCOUNT10" to get 10% off on your billing amount. 
Buy Keystone Hardware Wallet!!!
Ledger Nano X hardware wallet: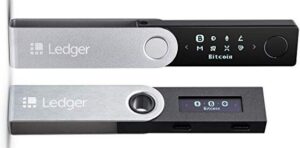 Since the Ledger Nano X/S is a hardware wallet, your private keys are kept on the actual device, offline. As a result, it is significantly safer than keeping your keys on a hot wallet, such a mobile app or exchange. It supports more than 1500 different cryptocurrencies and tokens, including many popular ones like Bitcoin, Ethereum, and SUI. Simply use USB or Bluetooth to connect it to your computer or mobile device, and then use the Ledger Live app to manage your cryptocurrency assets.
Your smartphone and Ledger wallet can be safely linked using Bluetooth. As a result, you may manage your cryptocurrency assets while on the go without carrying around a Ledger Nano X device. Anyone seeking for a safe and user-friendly hardware wallet should choose the Ledger Nano X. It is supported by a respectable company, supports a large number of cryptocurrencies, and is simple to use. Buy Ledger Nano Hardware Wallet!!!
Safepal Hardware Wallet
The SafePal S1 hardware wallet is a mobile-friendly, EAL 5+ secure electronic gadget that aids in safeguarding users' private keys by keeping them completely offline without bluetooth, WiFi, NFC, or any other radio-frequencies. Additionally, it offers extensive security measures to block online attack vectors and defend against malicious actors, including a real random number generator, an anti-tamper self-erasing mechanism, and more.
Safepal support for $SUI in the hardware wallet and mobile app for SafePal. The Sui network support update for the browser wallet extension is also in development and will be made available soon. This integration will help SafePal customers explore the Sui ecosystem and safely manage their assets as an L1 blockchain that recently finished the launch of their eagerly awaited mainnet.
Read more about Safepal Hawdware Wallet ||  Buy Safepal Hardware Wallet
Trust Wallet
Trust Wallet is a non-custodial mobile phone wallet gives you complete control over your private keys. Your assets are safer because they are not kept on any servers owned by third parties. Over 4.5 million tokens and cryptocurrencies, such as Bitcoin, Ethereum, and Binance Coin, are supported by Trust Wallet. This makes it a flexible wallet for keeping a variety of digital assets. Even for beginners, Trust Wallet is simple to use. The desktop version is also available, and the mobile app is user-friendly. Downloading and using Trust Wallet is free. To store or send tokens or cryptocurrencies, there are no costs.
Suiet Wallet
Suiet Wallet is a cryptocurrency wallet created for the SUI ecosystem. The Wallet makes it simple to deposit, withdraw, and store tokens within the SUI ecosystem. This e-wallet has the potential to rule the SUI ecosystem and features a user-friendly interface. This wallet is available for chrome browser and soon going to be launched for smartphone platforms as well.
Ethos Wallet
Ethos Wallet is a wallet-related product similar to the Sui wallet and Metamask. It may be regarded of as a wallet platform that helps users manage their assets on the Sui Network ecosystem. The Extension's integrated wallet products are frequently the only places where users' assets are kept, transferred, and exchanged. However, Ethos Wallet offers a far wider range of uses. This functionality allows users to view NFT-related assets on their wallet address. Additionally, customers can more easily access the Dapps in the Sui ecosystem because to the built-in DApp component of the Ethos wallet.
Final Words: 
We described 6 wallets supporting SUI ecosystem in this blog post. It should be taken into consideration if you're seeking for a digital wallet that will provide you with security and usability. Make sure to select the wallet that best meets your needs because each of these has an own set of characteristics. Hopefully, this list has assisted you in reducing your options and selecting the Best SUI Wallet for you.