Choosing the best Litecoin wallet is confusing as there are multiple LTC wallets are available in the crypto universe. We picked some trusted and secure best Litecoin wallets so that you can choose one for you.
Litecoin is a type of cryptocurrency as bitcoins. It permits users all over the world to make payments in an instant and immediate manner. Using consumer-grade hardware, Litecoins can be mined effectively.
It is a decentralized currency used globally and is operated on the technology of blockchains. It uses peer to peer mechanism and does not have any centralized authorities. It offers complete financial control to the users and provides security. It has enhanced efficiency and allows quick transactions.
Types of Litecoin (LTC) Wallets:
A wallet is a software program or an application that is used for the storage of cryptocurrencies. It can be an offline application or a web-based application. It simply facilitates secure cryptocurrency storage. A Litecoin wallet is required for the exchange of Litecoin payments. It specifies that each and every payment can be sent or received only with the help of Litecoin wallets. So the users have to create, download, or buy a Litecoin wallet to make payments.
The Litecoin wallet facilitates safe and secure Litecoin transactions and will determine the complete worth of the Litecoins. In order to ensure wallet security, it needs to be encrypted. This encryption makes the users to periodically check their account balance and overall transaction status. Read about Different Types of Bitcoin Wallets To Store Bitcoins Safely.
Litecoin wallets can be accessed on tablets, mobile phones, laptops, and desktop systems. Before choosing a Litecoin wallet, we have to make sure that whether it is a trusted company in order to avoid scams. Let's discuss the best Litecoin online and offline wallets available in the market to store your LTC. The following are the four different types of wallets recommended for the storage of Litecoins:
Note: Hardware wallets are the best wallets in terms of the security of your funds. In case you are holding a huge amount of crypto fund then it is always recommended to use Hardware wallets. We are listing Ledger Nano S/X and Trezor in this article. There are 25+ other hardware wallets available in the market.
You may read our article on the Complete List of Hardware Wallets to find out the best wallet for you. 
Best Litecoin (LTC) Wallets:
Ledger Nano S/Nano X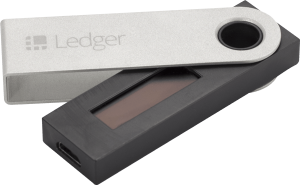 Nano S is the most popular hardware wallet in the market. It supports Bitcoin, Ethereum/Ethereum Classic, Litecoin, Dash, Dogecoin, Stratis, Zcash, Ripple, Komodo coins. If you want to keep your Litecoins for the long term then it is the best option for you.
Ledger Nano S is the most used offline wallet to store the crypto coins. Nano X is an improved version of Nano S wallet including Bluetooth support. Ledger is a relatively cheap easy to carry hardware wallet compared to others. It provides control of the private key to the user in terms of security. Get Ledger Nano S Now!!!
Coinbase (Online/Web application)
Coinbase is an online platform for selling and buying (trading) digital currencies like Litecoins, Bitcoins, and Ethereums. This service was launched in 2012 in San Francisco, California, United States. The founder, as well as the CEO (Chief Executive Officer) of this platform, is Brian Armstrong. Once a user gets access by registering at this site, he must go through a 2-step verification process to protect his account from any unauthorized access. Signup for Coinbase Now!!!
Reasons to Choose Coinbase
Security: It offers safe storage of digital assets (almost 98%) in the offline mode so that the bitcoins are kept protected from loss or theft.
Cross-platform: Coinbase wallets are used for both iPhone and Android applications.
Complete control mechanism: It holds multi-signature wallets that provide control for the private keys used.
Buy/Sell Facility: At Coinbase you can buy or sell your LTC also. Unlike other online wallets, it provides an option for buy, sells and storage facilities for your LTC.
Guarda Wallet (Web, Mobile, Desktop)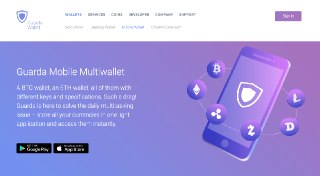 Guarda is a multicurrency crypto wallet that supports all major coins including Litecoin (LTC) along with 10k+ tokens. It is a non-custodial crypto wallet available for web, mobile, and desktop platforms. Started in 2017, it allows users to buy and exchange cryptocurrency within the wallet only. Guarda is a Europe based company with an FIU license. It supports a long list of features like Shielded Guarda (application for private ZEC transactions), Hardware wallet integration, and Staking to generate passive income through cryptocurrency holding. Get Guarda Wallet Now!!!
Secure backup encryption and custody-free storage policy
Wide range of supported cryptocurrencies with new coins and tokens added constantly
Currency-specific features of supported coins
Cross-platform operations – all the wallets are easily synced across available versions
Built-in purchase and exchange services
Ledger Nano S integration
Additional services such as ERC20 Token Generator
Supports the staking of PoS coins.
24/7 customer support line with the fastest response time on the wallet market
Exodus (Mobile, Desktop)
Exodus is a user-friendly and versatile multi-currency wallet. The best feature of the Exodus wallet is the built-in exchange facility is quite nifty. It allows users to interchange coins with each other. The buy and sell option is also available in this wallet. Before the Coinbase, Exodus was the first choice of most of the coin lovers.
It allows you to exchange coins with each other.
It is secure and easy to use.
The only desktop app is available so you can not use it as a website.
Exodus wallets support bitcoins, Dash, Ethereums, and Dogecoins in addition to Litecoins. It is a free and open-source wallet that gives complete private key control to its users. Download Exodus Now!!!
Trezor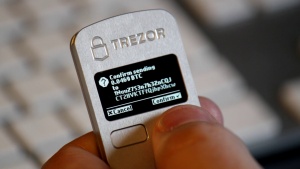 After "Nano S" another Hardware Wallet is Trezor. This is the first Hardware wallet that came into existence. It allows users to store Litecoin safely in the same manner as Nano S wallet. It comes with a small OLED display that displays your 9 digit security code at the time you want to access it. It has a 24-word seed key to restore your wallet data in case you missed it. Trezor is very much similar to Ledger Nano S but is a little bit more expensive and costs $99. Buy Trezor Wallet Now!!!
Loaf wallet (iOS App + Android)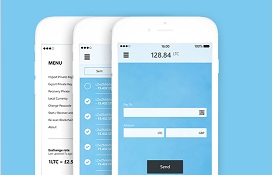 These types of wallets are designed specifically for mobile users since they can be accessible over mobile phones. They offer the best functionality for the Litecoin users and can be downloaded from the IOS application store. Visit Website
LiteAddress (Paper Wallet)
If you have a huge amount of Litecoins and want to store them for the long-term, then you should also consider Litecoin Paper Wallet which can be made at liteaddress.org. You will have a Private Key as well as a Public key printed on the paper and you need to store a copy of this data at different places. If you lose access to your Pvt kay all your coins will be gone.
Paper Wallets are one of the cheapest and safest methods to store your Litecoins offline unlike Hardware Wallets.
Learn Here how to make Paper Wallet
Litecoin Core (Desktop Wallet)
It is the official Litecoin Desktop Wallet which is Free to use. You have to Download Litecoin Core on your PC and the private keys will be saved on the same Desktop itself. Since it is a core wallet for Litecoin, it will download the whole Blockchain and this could take a huge amount of time (Up to 4-5 days). Download Litecoin Core
Electrum – LTC:
Electrum wallets were used only for the storage of bitcoins in ancient times. But now, it has been extended for the storage of Litecoins too. This wallet is protected with the help of a seed passphrase. A backup of this wallet must be taken for its restoration.
This wallet is lightweight in nature and it offers the synchronization of blockchains in seconds, instead of taking hours. The installation of this electrum wallet can be done on various platforms including Windows, OS X, and Linux. For the purpose of cold storage, offline wallets are also available in the market. Visit Website
Final Words
Though above-discussed apps and websites are highly secure and easy to use to store Litecoin safely. Sometimes it makes sense to store your coin in exchanges like Binance, Bybit,  Bitfinex, etc. These exchanges offer users to buy/sell, staking, interest based deposits. But IF you are holding large amount of fund or for long term, then you should always use personal wallets only.
I hope you enjoyed this article and it is helpful for keeping your coins safe and secure. Which wallet do you prefer to store your coins? Please share your experience with us.