The Cronos blockchain has been taking the crypto world by storm. As the first EVM(Ethereum Virtual Machine)-compatible layer built on the Cosmos SDK, Cronos opens up new possibilities for developers looking to deploy decentralized apps with the speed and interoperability of the Cosmos ecosystem.
With more users flocking to Cronos to explore these new DeFi and GameFi opportunities, the demand for reliable and secure Cronos wallets is higher than ever. In this blog, we'll walk through some of the top contenders when it comes to the best Cronos wallets available today.
Best Cronos (CRO) Wallets:
Crypto.com DeFi wallet
The Crypto.com DeFi Wallet first sprang onto the scene in 2016, founded by Bobby Bao, Gary Or, Kris Marszalek, and Rafael Melo. Headquartered in Singapore, Crypto.com has grown by leaps and bounds over the years into one of the most widely-used online wallets for digital assets.
As of May 2022, Crypto.com has reportedly amassed over 50 million customers, establishing itself as a major player in the cryptocurrency exchange space. The company also rolled out its own native token, Cronos (CRO), which powers its ecosystem.
It currently supports a whopping 34 different blockchains, along with over 700 unique tokens.
Pros of Crypto.com Crypto Wallet
Ideal for those with experience in crypto markets, offering access to a variety of tokens and coins.
Known for high-security standards, including multifactor authentication (MFA) and account protection.
Supports over 250 cryptocurrencies for buying, selling, swapping, and staking.
Offers advanced trading features like stop-loss limits, over-the-counter (OTC) trading, and NFT purchases.
Allows users to stake CRO tokens for a high annual percentage yield (APY).
Available in over 100 countries for buying and selling cryptocurrencies.
Supports payment cards for making transactions and earning rewards.
DeFi wallet provides non-custodial storage and staking of coins.
Offers a remarkable safeguard by granting eligible users up to $250,000 in case of asset loss.
Cons of Crypto.com Crypto Wallet
Overwhelming for beginners with limited educational resources and complex features.
Not accessible in some countries and regions, including New York, due to legal restrictions.
Platform fees can be relatively high, with potential discounts for staking CRO tokens.
Low customer satisfaction score due to complaints about customer support and slow response times.
2. Metamask
MetaMask first emerged on the crypto scene in 2016, hatched by Consensys as a way to streamline access to the fledgling world of dApps. Since its launch, MetaMask has taken off in popularity, amassing over 10 million active crypto buffs in its community.
Pros of MetaMask Wallet
Open source and can be accessed through multiple browser networks, providing users with flexibility.
The wallet offers an easy-to-use and user-friendly interface and design.
Users have direct control over their private keys, which are stored locally within their internet browser.
For users seeking enhanced security, MetaMask can be integrated with Ledger hardware wallets.
The wallet offers automatic backup functionality, ensuring that users' accounts and essential data are backed up regularly.
MetaMask generates keys and passwords directly on the user's device.
While primarily focused on Ethereum, MetaMask supports various Ethereum test networks like Kovan, Goerli, Ropsten, and Rinkeby.
Unlike some wallets, MetaMask lets users adjust transaction fees according to their preferences and urgency, offering a granular level of control over transaction costs.
MetaMask has integrated the EIP-1559 upgrade, changing the Ethereum transaction fee mechanism to reduce uncertainty and improve user experience.
Cons of MetaMask Wallet
Being a hot wallet, MetaMask has potential security concerns associated with the online storage of private keys.
The wallet supports ERC-20 and Ethereum tokens only, limiting the range of supported cryptocurrencies.
3. Mathwallet
Math Wallet first emerged on the crypto scene in 2019 as a multi-chain wallet solution catering to the growing array of blockchain ecosystems. Based in Singapore, Math Wallet aimed to be a one-stop shop for storing, managing, and growing crypto holdings across various networks.
Over the years, Math Wallet has continued expanding its cross-chain capabilities, now supporting over 148 different public blockchains and their native cryptocurrencies.
Pros of Math Wallet
The wallet supports over 60 blockchains.
Users can easily swap cryptocurrencies between different blockchains.
Provides a built-in DApp browser.
The wallet can be integrated with hardware wallets like Ledger and Trezor.
Math Wallet offers both mobile (iOS and Android) and desktop (Windows and Mac) versions.
Users can stake and delegate various cryptocurrencies within the wallet.
Cons of Math Wallet
May not be as widely adopted as some other wallets.
May have fewer advanced features compared to some other wallet options.
The array of features and supported blockchains could be overwhelming for new users.
User interface can be slow or buggy at times.
Requires an internet connection.
4. Trust Wallet
Trust Wallet was first launched as an open-source, Ethereum-based wallet solution designed to store ERC20 and ERC223 tokens. Over time, the team behind Trust Wallet has expanded the wallet's capabilities considerably. Now, Trust Wallet supports over 160,000 crypto assets across a wide variety of blockchains, cementing itself as a leading multi-chain wallet.
Pros of Trust Wallet
Can be downloaded for free.
Enables users to stake certain cryptocurrencies.
Users have control over their private keys, which are not stored on the wallet's servers.
Trust Wallet is available for both iOS and Android devices.
The wallet doesn't require users to undergo KYC (Know Your Customer) procedures.
The app includes in-built charts.
Trust Wallet addresses backup concerns with a 12-word recovery phrase.
Cons of Trust Wallet
While Trust Wallet offers security, it's not as secure as hardware wallets which are offline and less susceptible to hacking.
5. BC Vault Hardware Wallet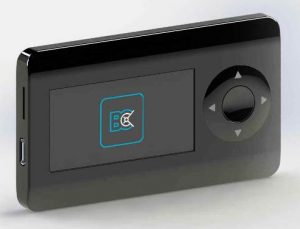 BC Vault has been steadily making a name for itself worldwide thanks to its unique physical design and standout features. Read complete BC Vault Review.
Pros of BC Vault Hardware Wallet
Offers advanced security features.
Compatible with 20+ cryptocurrencies.
Known for sturdy construction.
Multiple options for user preferences.
Products ship worldwide.
Cons of BC Vault Hardware Wallet
Interface design is dated.
Wallet is relatively pricey.
6. Cool Wallet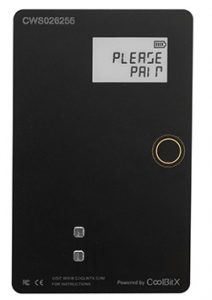 Cool Wallet stands out for its unique approach to cold storage that offers robust security without sacrificing ease of use. Since pioneering this user-friendly cold storage wallet years ago, Cool Wallet has earned widespread recognition in the crypto community.
Pros of Cool Wallet
Offers advanced security through hardware design.
Seamlessly integrates with decentralized finance (DeFi) platforms.
Supports trading NFTs via platforms like OpenSea and Rarible.
Features a discreet and distinctive design.
Compatible with a diverse range of cryptocurrency assets.
Cons of Cool Wallet
The device has a relatively limited battery lifespan.
Lacks real-time customer support.