Aptos is a Layer 1 Blockchain that finishes all the transactions on its network. This project was launched with the motive of engaging scalability, safety, and upgrading Web 3.0 Infrastructure. The launch of this project has also been seen as a great potential to outrank its competitors available in the market. That's why we came up with the best Aptos Wallets that you should know about.
Aptos Blockchain also has its native coin and it can be stored in a wallet at per user's convenience. There are two types of wallets, Custodial Aptos Wallet and Non-Custodial Wallet. 
Custodial Wallet means keeping coins in a third-party wallet where private keys will not be held by you. You can keep your Aptos on any crypto exchange but if the exchange goes burst, you cannot recover your funds. 
Non-Custodial Wallet gives you full authority to keep your Aptos safe with private keys. You need to keep private keys very safe or else you will lose all of your funds. Let us discuss the Aptos wallets where you can keep your coin safe. 
Best Aptos Wallet:
Ledger Hardware Wallet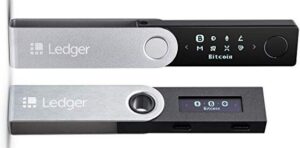 Ledger Wallet is a popular brand of hardware wallets used for securely storing and managing cryptocurrencies such as Bitcoin, Ethereum, and others. Ledger Wallets come in different models, including the Ledger Nano S, Ledger Nano X, and Ledger Blue.  [Complete List of Crypto Hardware Wallets]
One of the main advantages of using a Ledger Wallet is its advanced security features. These wallets use a secure chip and a custom operating system to protect users' private keys from hacking attempts and other security threats. They also include a PIN code and two-factor authentication to further enhance security.
Ledger Wallets support a wide range of cryptocurrencies, making them a versatile option for cryptocurrency investors and traders. They also typically offer cross-device compatibility, which means they can be connected to a computer or mobile device using a USB cable or Bluetooth.
Visit Ledger Wallet Store
Petra Wallet
Petra is a Chrome extension for Aptos, which is built on Aptos labs. It works as a user interface between users and Aptos Blockchain. By just using this wallet, users can store and trade their assets without any hassles. 
This Wallet has already more than 3,00,000 downloads. Users are also allowed to mint and view all NFTs available on the Blockchain. There are various other benefits of this wallet, which users can use to store their digital assets. 
Martian Wallet
Martian is a self Custodial wallet where users can store their cryptocurrencies, which use Move language for their projects. Users are not restricted just to Aptos coins, so it will be very convenient for all. 
This wallet is available for Chrome and iOS extensions, users can easily access and manage all their digital assets here. Well, the speed phrase will not be stored on the server and you can mint NFTs directly to the Blockchain and this is the reason why it has more than 5,00,000 downloads till now. 
Trust Wallet
Trust Wallet is one of the most popular wallets, which is owned by Binance Labs. If you know anything about wallets, then you may hear about Trust Wallet because it is the biggest Multi-Chain wallet, which supports Aptos Blockchain. 
Users can download the app from the Play Store or Apple Store. Infect, users can go with browser extensions also. Well, it is an open-source product, which is completely free. Now you don't need to download multiple wallets to store cryptocurrencies when you have a Trust Wallet. 
Pontem Wallet
Pontem is a cryptocurrency wallet, which is developed on the Pontem network, but it is a gateway to the Aptos Ecosystem. This is one of the fastest and most scalable Blockchain out there in the market. Infect charges a minimal fee with a transaction speed of up to 1,00,000 tips. 
It comes with various outstanding features such as sending and receiving tokens and also navigating all the dApps, which are available on Aptos Blockchain. They have a community of more than 100k people and currently, they have more than 2,00,000 downloads. 
Fletch Aptos Wallet
Fletch Wallet gives users full authority to store their coins on Aptos. Yes, it is a Decentralized wallet, which can easily manage all the tokens and NFTs without any hassles. 
This wallet is available for users as a browser extension and also as a mobile application that can be downloaded from the Play Store or iOS store. It is a mobile-friendly platform where users can manage and access their tokens easily. 
Well, it is a new wallet upgrading its features to get a wide user base. Currently, they have over 10,000 downloads and it will increase in the upcoming future. 
Fewcha Wallet
Fewcha is a web3 Aptos wallet that gives users access to a variety of Aptos blockchain applications. Both novice and experienced users will find it to be the best option because it provides a simple and safe way to store, send, and swap tokens and NFTs.
The web3 connection provided by Fewcha for dApp developers is one of its distinctive characteristics. It is a useful tool for developers wishing to create on the Aptos blockchain since it enables them to quickly link their dApps with the Aptos ecosystem. They add an extra degree of security for users by encrypting the Mnemonic Phrase with 100% encryption and not storing the seed phrase on any servers.
Conclusion
These are the best Aptos Wallets to store tokens with immense security. Aptos is a powerful project that comes with enticing features and a constructive option for the developer community. 
The wallet has a strong background and the community is constantly working on its development. After all, it is the future of our technology and provides a lot of conveniences to create decentralized apps.