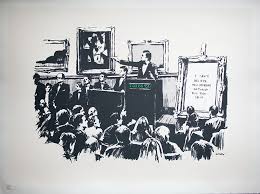 A group of blockchain enthusiasts acquired the painting by infamous street artist Banksy for $95,000 and then burned it live to turn it into an NFT token.
The American group Injective Protocol bought Banksy's work and burned it to issue an NFT token. In a video posted on Twitter yesterday by BurntBanksy, a member of the group takes a lighter and brings it to a 2006 painting called Morons, which Coindesk has found was bought at Christie's in December for $100,000. One can read the caption on the painting saying "I can't believe you morons are actually buying this shit", and it depicts the overly inflated art market.
"If you were to have the NFT and the physical piece, the value would be primarily in the physical piece. By removing the physical piece from existence and only having the NFT, we can ensure that the NFT, due to the smart contract ability of the blockchain, will ensure that no one can alter the piece and it is the true piece that exists in the world. By doing this, the value of the physical piece will then be moved onto the NFT."
After these words, the arsonist brings the lighter to the painting. The fire completely covers the canvas. According to him, the NFT token issued on the Ethereum blockchain will be auctioned on March 4 on the OpenSea marketplace (until March 9). The proceeds from the sale will be donated to charity. The winner of the auction will receive official confirmation of the painting's authenticity from Banksy's authentication agency, Pest Control.
The exact location of the burning of Banksy's painting is unknown. It happened somewhere in Brooklyn, New York on March 3rd.
"I think [Banksy] would appreciate what we are doing since he also promotes creativity and iconoclastic ideas," the team behind the burn told CoinDesk in a statement.
NFT tokens are tokens of a special format (ERC-721 in the Ethereum blockchain), which assumes that each token is indivisible, non-fungible and contains unique data. Tokens of this format are traditionally used to confirm ownership.
At the end of February 2021, the popular digital artist Beeple's NFT token, dedicated to the resignation of US President Donald Trump, was sold on the secondary market for $6.6 million.
Via: 2Coinfox.info